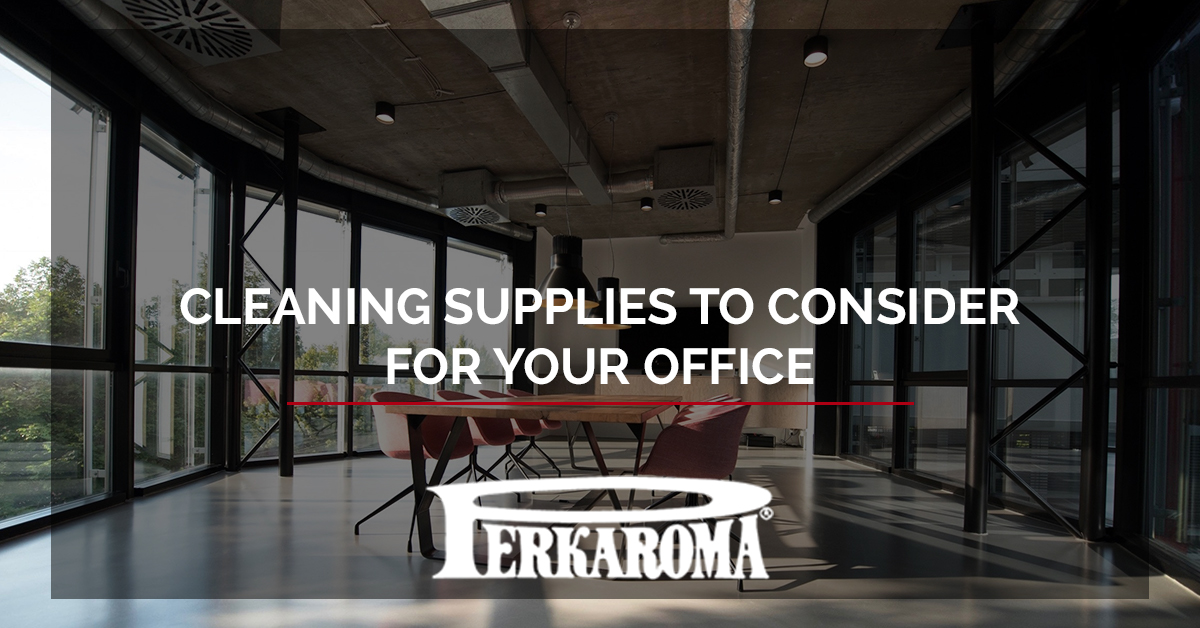 Most business owners will tell you that a clean office is a happy office. Keeping your workplace clean and tidy is a great way to not only keep your employees happy, but your customers and clients happy as well. Whether you're just starting a new business or you're looking for ways to improve the cleanliness around the office, we're here to provide you with some helpful tips.
At Perkaroma, we have more than a half-decade of experience in the workplace refreshment, office supply, and cleaning supply business. We are extremely passionate about helping you create a fun and comfortable workplace environment, and our staff works hard to ensure that all of your supply needs have been met. We also offer managed office supply and breakroom supply services for our clients throughout New Jersey and New York. We created this managed services in an effort to reduce the hassle and stress that often comes with ordering, reordering, tracking, and maintaining your office inventory. When you sign up for our managed service, you will also be provided with:
Seasonal product recommendations
New product availability notifications
Product consumption analysis
And a budget analysis
If you're interested in learning more about our services, contact our office in New Jersey today!

Office Supplies You Need For Your Workplace
Did you know that almost every environment on the planet contains microorganisms and harmful bacteria? In fact, recent studies suggest that one square inch of skin can contain more than 600,000 bacteria. While most of this bacteria is virtually harmless to humans, disease-causing organisms known as pathogens can be dangerous to encounter. One of the first ways to ensure that your office is clean and sterile is to invest in a quality disinfectant. Using the right kinds of disinfectants on the different surfaces of your workplace can be critical in helping to prevent the spread of colds, flus, and other illnesses. With the large variety of office disinfectants and cleaners on the market, it can be challenging trying to choose the best one for your workplace.
Let's look a little closer at how disinfectants work before we get into the various types available.
Disinfectants: How Do They Work?
If you've been wondering how disinfectants work to sterilize your office, you've come to the right place! These chemical agents are applied to non-living objects in an attempt to destroy bacteria, fungi, viruses, mold, and mildew that can be found living on various objects. Today, disinfectant formulas must be registered with the Environmental Protection Agency (EPA), before they can be put on the market.
Some popular disinfectant types include:
Quaternary Ammonium Compounds (Quats) – This type of disinfectant tends to be very popular among hospital and institutional settings due to its low cost and quick action against a variety of microorganisms.
Chlorine Compounds – This type of disinfectant is highly recommended for cleaning up bodily fluids, making it the perfect bathroom cleaner. These disinfectants tend to be fairly inexpensive, however they have been known to be corrosive and cause discoloration if not used appropriately.
Alcohols – As you may already know, when alcohol is diluted in water it can act as a very effective agent against bacteria. The downside of these cleaners is that they evaporate more quickly than most and they are flammable.
At Perkaroma, we offer a wonderful array of janitorial supplies and office cleaners. When you sign up for one of our managed inventory services, we'll keep a close eye on your inventory and bring you the supplies you need, when you need it. Let's take a look at some of our popular cleaning products below.
If you're looking for a quick and easy solution when it comes time to wipe off your desk, telephone, or kitchen island, you can count on our Lysol Disinfectant Spray to do the trick. This incredible disinfectant spray can kill up to 99.9% of germs on hard and nonporous surfaces, and it is an effective agent against over 100 microorganisms. This spray also works well if you're looking to eliminate odors and prevent the growth of mold and mildew in your office.
If you're looking for a safe and effective disinfectant with bleach, look no further than our Clorox Healthcare® Bleach Germicidal Cleaner. This ready-to-use disinfectant has a 1:10 bleach dilution and can fight up to 58 pathogens. After just one minute of contact time, this cleaner offers protection from a broad range of microorganisms including Norovirus and VRE.
Glass Cleaners: Why You Need Them
If your office is surrounded by windows or there are several glass doors in your workplace, it's always a good idea to invest in some glass cleaner. Taking the time to clean your windows, doors, mirrors, and glass tables can make a big improvement on the cleanliness and aesthetic of your office.
At Perkaroma, we're proud to carry a diverse selection of office glass cleaners for our small to large business clients. Let's take a look at some one of our most popular glass cleaners below.
Are you looking for a glass cleaner for your office windows, doors, and tables? The Spic & Span® Disinfecting All-Purpose Spray and Glass Cleaner may be the perfect solution for you. With a patented, dual-solvent formula, this spray is designed to dissolve greasy soils for easy clean-up. One gallon of this product can make up to 15 gallons of cleaning product for your office.
Perkaroma: Your Partner In Office & Breakroom Supplies
If you work in the New Jersey or New York area and you need assistance managing your office inventory and breakroom supplies, contact the professionals at Perkaroma today. With more than half a decade in the office supply and workplace refreshment industry, we're happy to help reduce the hassle and stress that often comes with ordering, pre ordering, and maintaining your inventory. On the other hand, if you're more than happy to handle all of your office inventory and restocking, we can help you find the best office supplies for your space.